Ready to add a little sophistication to your look? Then graduate on to Steven footwear by Steve Madden. These styles are a perfect combination of youthful colors and mature designs. Let these sleek, unique designs carry you into a new world of fashion with all the comfort and flair you've come to expect from Steve Madden.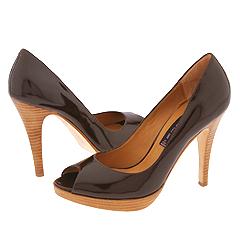 In affiliation with Zappos.com. Zappos offers FREE shipping and returns, a 100% price guarantee, and a 365-day return policy!
Customer Ratings / Product Reviews

2006-06-27 07:18:11 Steven Lalo
Reviewer: Anonymous from Chicago, Illinois

Hot shoe - I had tried on a 5.5 at a local store and it was a bit tight. So I purchased the 6 from Zappos. When I got them, they felt quite big. I went back to the store and compared the feel of the 5.5 - the issue seemed not to be the length, but the width in the front. I kept the 6 and added pads - this helped quite a bit and after a few wears became more comfortable.

2006-06-27 05:40:30 Steven Lalo
Reviewer: Anonymous from Miami

Most painful experience of my life! I wear high heels often and have almost no discomfort, but these are an exception. I wore them to dinner and drinks for about 5 hours and my feet still are sore three days later. My heel on one foot hurts so bad I am practically limping. They are absolutely beautiful shoes, but just beware of the pain they may bring if bought to stand in for more than an hour! I am told by friends that they get more comfortable the more you wear them, but I do not know if I am willing to take the risk!

2006-06-22 11:05:54 Steven Lalo
Reviewer: Kelly from Huntington Beach, CA

Steven Lalo - Great shoe! Goes with all outfits - casual or dressy. This shoe is also comfortable & easy to walk in. The padding in the shoe makes it comfortable & able to wear them for a long amount of time. Zappos is the best online store to buy shoes from - great shoes, fast delivery.

2006-06-22 10:18:33 Steven Lalo
Reviewer: Kim from Salt Lake City, Utah

SEXY! These shoes are HOT! I got them in natural tan and they match everything. Wonderful quality leather, too. Surprisingly easy to walk in for four-inch heels, which I normally won't touch. Slightly snug to begin with but stretched nicely to fit perfectly. I'm normally either a 5.5 or 6, went with the smaller size and they were just right.

2006-06-20 19:30:32 Steven Lalo
Reviewer: Vanessa from California

Lalo Love - Stiff, but fairly comfortable for being such a high heel. I find that I'm always looking for an excuse to wear them, and they make my legs look great.

Size: 5.5, 6, 6.5, 7, 7.5, 8, 8.5, 9, 9.5, 10
Color: Black Leather, Brown Leather, Brown Patent, Natural Leather, Navy Patent, Red Patent, White Patent
Width: Medium

Price: $117.95 to $128.95
Shipping: Free from Zappos

Hot and sexy couture-inspired pump
Smooth leather or suede upper with peep toe design
Stacked midsole stiletto heel add a sleek edge
Leather lining and sole
4" heel
Zappos is: