Looking for a fresh twist on fashion? The unique designs of Michael Kors footwear will surely compliment any chic attire. By redesigning classic styles with an emphasis on modern luxury, Michael Kors footwear stands alone at the top of this year's fashion trends. Michael Kors is the master of relaxed American style!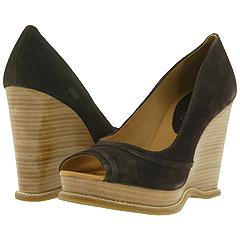 In affiliation with Zappos.com. Zappos offers FREE shipping and returns, a 100% price guarantee, and a 365-day return policy!

Customer Ratings / Product Reviews
2006-06-26 09:08:24 KORS Michael Kors Newton
Reviewer: Anonymous from Seattle
Very sexy shoe from my favorite shoe designer - I have been given many compliments and they give me a little added height without the discomfort of a stiletto heel. The platform is very comfortable to wear. Although I had to order a size larger because they were very tight. Returning was not an issue at all. Zappos is very courteous and prompt with there return system.

2006-06-21 06:24:00 KORS Michael Kors Newton
Reviewer: Anonymous from New York
The shoes look nice on but they are not that comfortable. My heel slips out of the back and they are very heavy. Overall they are just ok.

2006-06-20 06:57:06 KORS Michael Kors Newton
Reviewer: Long I from NY
Style and Class - My son's girlfriend wore these shoes and I loved them so much, I ordered a pair. I am twice her age and they look as stylish and classy on me as they do on her. They go with everything too, skirts, pants shorts. You will not be disappointed. They are as comfortable as can be expected for a shoe this high. I wouldn't walk too far or wear them on an unstable surface.

2006-06-16 08:53:05 KORS Michael Kors Newton
Reviewer: Anonymous from New York, New York
It's better to look good than to feel good - I can't help it - I love these shoes, even though they kill my feet. I can really only wear them for short stretches. But - I do LOVE LOVE LOVE how they look!!!
Size: 5, 5.5, 6, 6.5, 7, 7.5, 8, 8.5, 9, 9.5, 10, 11
Color: Bark Oil Calf, Black Oil Calf, Black Sport Suede, Camel Sport Suede, Chocolate Sport Suede, Khaki Canvas, Natural Canvas, Natural Oil Calf
Width: Medium

Price: $188.95
Shipping: Free from Zappos

Reach new heights of fashion in this fabulous peep toe stacked wedge.
Sport suede upper.
Leather lining.
Non-skid rubber sole.
4" heel.

Zappos is: