Looking for a fresh twist on fashion? The unique designs of Michael Kors footwear will surely compliment any chic attire. By redesigning classic styles with an emphasis on modern luxury, Michael Kors footwear stands alone at the top of this year's fashion trends. Michael Kors is the master of relaxed American style!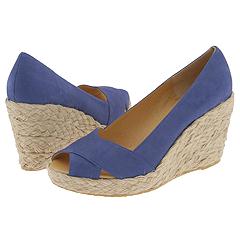 In affiliation with Zappos.com. Zappos offers FREE shipping and returns, a 100% price guarantee, and a 365-day return policy!
Customer Ratings / Product Reviews


2006-06-26 07:41:23 KORS Michael Kors Bleeker
Reviewer: Christina E from Atlanta, GA
Perfect Summer Shoe! These shoes are adorable and feel amazing on my feet. I like the rubber sole and they are padded so felt amazing on my feet. My first day wearing them to work was okay, but after a few hours, I got blisters on the back of my heels. I bought some rubber heel pads that seem to have resolved the problem. I guess this means I should have bought a half size smaller? Nevertheless, I would recommend these shoes to anyone.
2006-06-25 11:27:18 KORS Michael Kors Bleeker
Reviewer: Titah from San Francisco, CA
Cute and Light - This shoe is HOT! Looks great and is very light. Girls with wide feet (like me) will find that the front is a little narrow around the toes, especially around the pinky. Otherwise, cutest pair I own so far.
2006-06-25 10:33:35 KORS Michael Kors Bleeker
Reviewer: Anonymous from NY
Review - This shoe is very comfortable and stylish.

2006-06-25 10:24:18 KORS Michael Kors Bleeker
Reviewer: Anonymous from Pasadena, California
Comfortable summer shoe - I've received several compliments about this shoe. Very stylish and comfortable. It does need a little breaking in since the back rubbed against my heel a little bit. I can see wearing these shoes all summer at work and on the weekends.
2006-06-25 07:00:26 KORS Michael Kors Bleeker
Reviewer: Patricia G from New Jersey
Size - I almost always wear a size 6 1/2 but this shoe was too short. I returned it for a size 7 which fits better.
Size: 5.5, 6, 6.5, 7, 7.5, 8, 8.5, 9, 9.5, 10
Color: Black Leather, Brown Leather, Gold Leather, Silver Leather
Width: Medium

Price: $198.95
Shipping: Free from Zappos

An adorable peep toe wedge with the right look for the season.
Nubuck uppers.
Espadrille wedge.
Lightly cushioned footbed.
Rubber outsole.
3 1/2" heel.

Zappos is: